Transformational coaching to thrive through change
Participating in an executive coaching programme is a highly effective strategy to fast-track your progression.  It can be particularly beneficial during times of transition, whether that's stepping up into a new role, onboarding into a new organisation or leading a team through change.
Through coaching, you'll gain absolute clarity on your identity, purpose and value as a leader. Over a period of months or weeks, you'll identify how best to leverage your strengths and mitigate your weaknesses so that you can bring your best self to work.
In a confidential, safe space, you'll explore opportunities and challenges that could hold you back and the actions you can take to continue evolving.
Although every coaching programme is unique, typical themes include:
Building trusted relationships with stakeholders and colleagues
Increasing confidence in challenging situations
Influencing with integrity
Leading without authority
Bringing courage to difficult conversations
Increasing flexibility in your leadership style
Building resilience in yourself and others
As the success of any leader is directly linked to their ability to communicate, you'll also have access to expert feedback and coaching on your presence, impact and delivery, so that you can bring gravitas to any interaction, on stage, in the boardroom and virtually.
Outcomes are profound, both for you and your organisation.
Through realising your potential, you'll experience greater freedom to express your authentic leadership and see increased engagement, autonomy, motivation and productivity in your teams.
Leading with Gravitas Coaching
In addition to executive coaching, which focuses on all aspects of leadership progression, Antoinette also offers gravitas coaching based around the framework. and methodology in her book, Leading with Gravitas. Typical themes include:
Defining your leadership brand and visibility
Communicating with authority, including body language, voice, sentence structure and word choice
Designing and delivering winning keynotes, presentations and pitches
Building relationships and networking with confidence
Mastering career transitions
Navigating challenging conversations
As part of the programme coachees have access to expert feedback and coaching on their presence, impact and delivery, so that they can bring gravitas to any interaction, on stage, in the boardroom and virtually.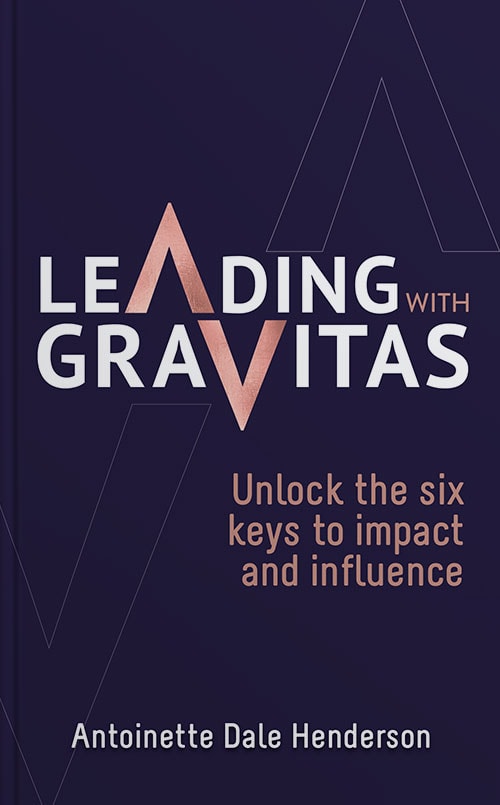 Partnering with you for success
Executive coaching is delivered by Antoinette Dale Henderson, author of Leading with Gravitas and Power Up, Professional Certified Coach with the International Coaching Federation and NLP Master Practitioner.
With over 25 years' experience, Antoinette has coached senior executives from various industries including retail, banking, communications, media, healthcare, pharmaceuticals, environmental technology and engineering, as well as the public and not-for-profit sectors.
Her aim is to inspire leaders to raise their bar so that they can fulfil their potential, represent their organisation in the best possible light and inspire teams to deliver excellence as standard. Her style is described as direct, passionate, challenging, positive and empowering.
Antoinette gets it. Before setting up her coaching practice, she held senior positions at many of the world's top communications consultancies, driving strategic communications programmes and leading cultural change initiatives, as well as managing global teams to deliver award winning campaigns.
Our signature Executive Coaching Programme includes six tailored sessions of up to two hours per session, held face to face, by phone or via video call.
This include:
Review of 360 feedback and appraisals
Objectives setting
Themed sessions
Assessments at half-way and end points
Signed copy of your choice of Antoinette's books
For Gravitas Coaching, you will also receive exclusive access to Gravitas Profiling.
"Antoinette displays a confidence in applying the appropriate level of challenge which moves you out of your comfort zone and enables you to confront what's stopping you, ultimately moving you forward to achieve great results."
Claire Whitehead, Strategic Planning Consultant
"I found the programme to be excellent: I've come away feeling more confident and self-assured."
Bethan Hughes, Innovations Partner, Wellcome Trust
"Antoinette helped me believe in what I have to offer and showed me a pathway towards expressing my leadership qualities."
Claire Norwood, Claire Norwood Property Ltd
"Antoinette takes on the voice inside your head that stops you being the person you deserve to be and brings out the real version that can achieve anything."
Tobias Jackson, Co-Founder, Operations Director, Adventure Bar Group
Photo credits: Yolande de Vries, Annie Armitage
© Antoinette Dale Henderson